Seth's Books Bookshop
November 26 – December 23
Laughter, Columbusplein 233, 1057 TP Amsterdam
Open: Tue–Sat, 11am–5.30pm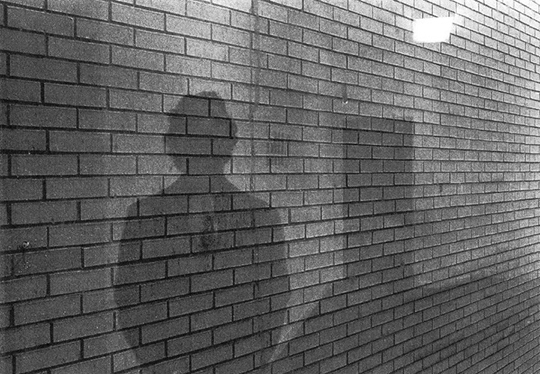 Duane Michals, "Photograph of Seth Siegelaub," (1969) Courtesy of the Artist and the Siegelaub Collection & Archives at the Stichting Egress Foundation, Amsterdam.
In 1969, when Seth Siegelaub set up the exhibition January 5–31, 1969 he left these typewritten instructions for his then secretary Adrian Piper:
Get keys
Answer phone "Seth Siegelaub"
Catalogs are available only at gallery – if any one wants extras we will mail them. (except for the press)
If someone is interested in purchasing work, call me.
My other phone is 288-5031.
Gallery hours: Tuesday – Saturday, 11 – 5:30.
Gallery will exist for this month only.
Every morning turn on both Robert Barry pieces.
Lawrence Weiner has one freehold piece (see catalog) – if anyone inquires about this – tell them they can own the piece by making arrangements with Mr. Weiner at GR7-4113.
Haved people sign guest book.
The tpyewritten Information sheet is for press

only

.
For the first six hours of the exhibition (sat.) take a polaroid photo every 1/2 hour of the Huebler sawdust (looking into the hall) and then place it on the wall (with scotch tape) near the type-written document. At the end of the 6 hours (5 PM Sat.) remove the sawdust and throw it away.
To celebrate the launch of Seth Siegelaub "Better Read than Dead": Writings and Interviews 1964–2013 (in which the above note is included) Kunstverein will take a cue from Seth's instructions and transform our second space, located at Columbusplein 233, into a Seth's Books Bookshop for one month only. The arrival of this new publication, modestly financially supported by Kunstverein, is especially exciting for us since it marks the important moment that this inspirational material by the hand of our dear friend and former board member Seth Siegelaub is made available to a larger audience in one concise volume, a wonderful initiative from our current board member Marja Bloem. The Seth's Books Bookshop set-up in celebration of this occasion will be exclusively devoted to selling books by and about Seth Siegelaub, all of which make for perfect Christmas presents. The shelves will be stocked with, among others: How To Read Donald Duck, rare books on the history of textiles, The Joke Book and of course this newest publication.