Anne Turyn
Messages To The Public
18 May – 27 June 2020
Public space (accessible 24/7)
As a prelude to our forthcoming exhibition TOP STORIES, the first institutional solo exhibition by Anne Turyn in the Netherlands (which due to the corona outbreak has been postponed until the fall), we are bringing one of Turyn's enigmatic works to the streets and inviting you to go for a walk. On nine specifically selected poster columns located throughout Amsterdam, large-scale prints of the artist's 1988 commission Messages To The Public will be shown.
The exact locations can be found here.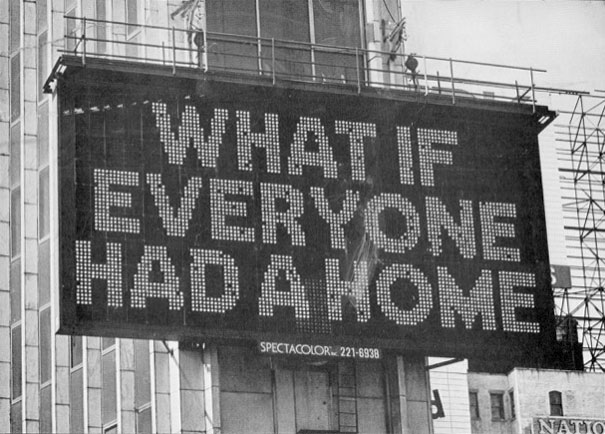 Anne Turyn, What if the sky were orange, 1988
Computer animation, Spectacolor lightboard, One Times Square, Sept. 1–30, 1988
This work was originally presented in digital form on the Spectacolor board overlooking Times Square in New York, and was part of a larger series of works commissioned by the Public Art Fund. In Turyn's piece, rhetorical questions like: 'What if everyone had a home?', 'What if there were free medical service for all?' and 'What if there were no lines at the bank?' flashed up. In re-staging an adapted form of this work now, it has become even more evident that such questions are (unfortunately) today, almost forty years later, still topical, timely and largely unsolved.