Mr. Peanut
Opening 13 October, 6–8 pm
On view until 1 December
I would like to take this opportunity to endorse the candidacy of Mr. Peanut for mayor of Vancouver. Mr. Peanut is running on the art platform, and art is the creation of illusion. Since the inexorable logic of reality has created nothing but insolvable problems, it is now time for illusion to take over. And there can only be one illogical candidate – Mr. Peanut.
– William S. Burroughs
Mr. Peanut… Mr. Peanut…. we know what you're thinking: not another white man in a peanut suit.
But it's 1974.
(Again)
And he's running for mayor.
And, imagine. Really. Close your eyes and picture it. He doesn't speak, he taps, he poses, he passes.
2,684 people vote for the big tap dancing peanut.
What does this say about politics, then?
And – tell us honestly – when, just now, you closed your eyes, and you saw him not in black and white, but full color, with his cane and his top hat, could you imagine yourself NOW, today, tomorrow, going into that voting booth and with your big red pencil ticking off the box next to the name "Mr. Peanut"?
Tell us.
Mr. Peanut… Not just another nut in politics.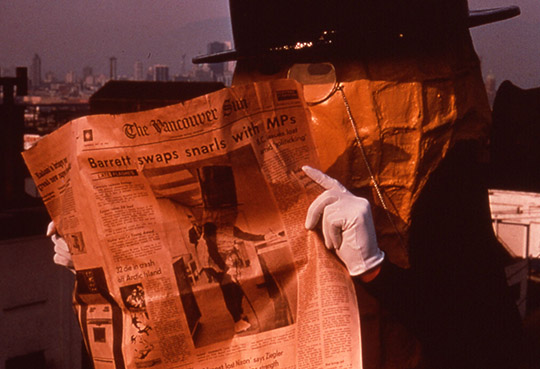 "Borderline Case" photo Morris/Trasov Archive
Vincent Trasov became Mr. Peanut in 1971. It all started when he was making drawings of Mr. Peanut tap dancing for a stop motion film for the cultural platform Intermedia, and, finding the task tedious, decided to make a life-sized costume instead, one in which he could simply tap dance himself, animating the real thing and skirting the drawing process. The name Mr. Peanut stuck.
He was in good company. Like many artists in Vancouver connected with the then recently founded art institution, The Western Front (founded in 1973 and ongoing), working with an alias became the norm. Michael Morris took on "Marcel Dot", Glenn Lewis, "Flakey Rosehip", Anna Banana became "Anna Banana", Eric Metcalfe & Kate Craig were "Dr. & Lady Brute", A.A. Bronson, Felix Partz & Jorge Zontal became "General Idea" and Chip Lord & Hudson Marquez from San Francisco were "Ant Farm".
For many of these figures collaboration is crucial. Collaboration and a determined interest in "finding [their] own audiences of like-minded individuals." This quest was made concrete in 1969 when Trasov and artist Michael Morris developed a decentralized artist network that aimed to connect and exchange with contemporaries, mainly in Canada and the US. They called it Image Bank. People like Ray Johnson, William S. Burroughs and Robert Filiou were inspirational and also supportive – in fact the name "Image Bank" was referenced from William S. Burroughs' novel "Nova Express" (1964).
In a world serviced relentlessly through social media, Image Bank and Mr. Peanut's urgency persists. Functioning as practices and methodologies, they remind us of how vital it is to continue to question and circumvent the existing establishments of both art and political institutions.
The exhibition Mr. Peanut traces the history of Trasov's revolutionary alias and includes historical documents, publications, correspondence, video footage as well as more recent drawings of Mr. Peanut and paintings by Vincent Trasov. A major retrospective on Image Bank will follow in the summer of 2019 at Kunst-Werke in Berlin.
Mr. Peanut has been made possible by the Morris and Helen Belkin Art Gallery, University of British Columbia and the Morris/Trasov Archive. Kunstverein wishes to thank the Belkin and their fantastic team, Scott Watson, Michael Morris and Vincent Trasov.