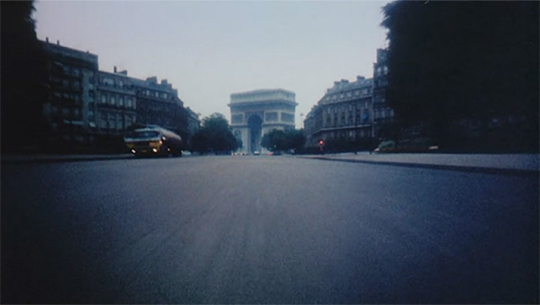 C'était un rendez-vous
22 September, 9 pm
at Cinetol
Tolstraat 182
1074VM Amsterdam
€6 (€4 for Kunstverein members and neighbours of Cinetol)
From this autumn onward Kunstverein will set up five multidisciplinary evenings at Cinetol. The evenings will always explore a different intersection between art and music. This first evening we dedicate to C'était un rendez-vous, a short film by Claude Lelouch from 1976 that depicts one crazy, nearly nine-minute long (or short) ride through Paris. To shoot the film Lelouch mounted a camera on his Mercedes-Benz and drove like a mad man through the streets of Paris. In the beginning of the film the director notifies the audience that for this film "nothing was accelerated and no stunts were pulled" yet what he fails to mention is that, because he was unhappy with the sound of his own engine, Lelouch edited the engine sound of a Ferrari on top of his images.
Sound is quite often a subordinate to the viewing experience in most films, but a lot changes to that viewing experience when the score changes drastically. At the invitation of curator Yana Foque, No Age (Drag City), Jan Matthe (Für Dich Verlag) and Smari Runar Robertsson addressed this topic specifically. Each band made their own unique soundtrack for C'était un rendez-vous, which will be shown three times on the evening, each time with a different score.
No Age
No Age is an American noise-pop band from Los Angeles founded in 2006 consisting of guitarist Randy Randall and drummer/vocalist Dean Spunt. The band is closely linked to the so-called Smell scene based around the similarly called club where they provided bookings. The duo acts as conductors, shamans, catapults, roadies on record and in live situations, delivering the people reductive rock n roll inspired by bursts of energy. Cosmic radiation amplification, cancerous tunes, infectious feelings, overwhelming joy. Active since 2006 until now, and possibly until forever.
Jan Matthé, together with Stacks
Jan Matthé from Antwerp is mostly known for his publications and mixtapes, which he releases as Für Dich Verlag. Lesser known are his beautiful synth compositions among which is "Musik Für Grottekinder 1 +2", a tribute to Soothing sounds for babies made on the occasion of the birth of his niece. Together with his brother Sis he makes electronic pop music as Stacks. Of this soon the third album will be ready.
http://www.soundcloud.com/risikopress
https://www.youtube.com/watch?v=XbrLgbqHDP4
Smari Runar Robertsson
Smári Róbertsson (Iceland, 1992) is a multidisciplinary artist and musician from Amsterdam. In his work he examines location-specific phenomena and topographical characteristics, which he translates into written works, sound compositions and site-specific installations. Through his works we encounter objects that have not only been formed by history, but which owe their autonomy and existence to the incidental processes that occur in the background of our own lives. Together with Masaki Komoto he also forms the musical duo Mr. Music.
https://soundcloud.com/muldurmuldur
https://soundcloud.com/mrmusicinc
Cinetol and Kunstverein wish to thank Amsterdam Fonds voor de Kunst (AFK) and Stadsdeel Zuid for their support to this program.