Kunstverein presents:
The Robert Wilhite Store for Art and Design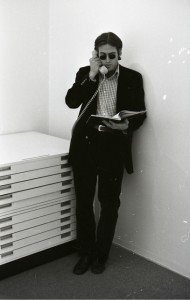 29 October 2011 – 04 February 2012
Opening: 28 October, 6-8 PM
When the University of California, Irvine opened in 1965, Robert Wilhite (1946, Santa Ana, CA) was one of the first students to study under Robert Irwin, Larry Bell, Ed Moses, and Tony DeLap. After graduating, he spent some time working for Pace Gallery in New York, and returned to Los Angeles in 1971. He has been based in Venice California ever since. Kunstverein presents a survey of his work
Robert Wilhite's practice is marked by a continual battle between the serendipitous and the calculated, the conceptual and the tangible. His work displays a readiness to freely move amongst mediums and disciplines, from sculpture to performance to the design of flatware. Wilhite: "A painting is an object and a coffee pot is an object. Which makes you look at it twice and provokes thought? As artists we should be able to look at both with inspiration and folly."
Music plays a crucial role in many of Wilhite's works. To date, he has constructed wind, string, percussion, electronic and silent instruments as sculpture. "Though the idea of silent musical instruments or sculptures seems absurd, when one ponders the importance of silence to music, the concept of a silent instrument seems reasonable."
In the late 1970s, Wilhite collaborated on four plays with Guy de Cointet and he remains involved in the re-staging of these plays today. IGLU, co-presented by Kunstverein (together with The Stedelijk Museum and If I Can't Dance) in early 2011, at Frascati Theatre in Amsterdam, premiered at the Vanguarde Theatre in Hollywood, Los Angeles in 1977. Here too the musical instrument and sound (or sometimes silence) holds a significant position. In IGLU's narrative sounds replace words at times, or are translated into gestures, transferring conventional communication to a distinctive, parallel plain. IGLU – as other works by Wilhite ¬– deals with language, meaning, and where these are capable of either meeting at, or extending in different directions from, a common point.
The Robert Wilhite Store for Art and Design transforms Kunstverein into a total environment – a Gesamtkunstwerk – with all facets of Robert Wilhite's practice on view: from diagonal tables to flatware, drawings and paintings to sculpture and instruments.
Recent and upcoming shows include: 'Pacific Standard Time: Art in L.A. 1945–1980', organized by the Getty Center; 'Downtown LA', Las Perlas, with Larry Bell, Ed Moses, Robert Irwin, and Laddie John Dill; 'Los Angeles goes life: Performance Art in Southern California 1970 – 1983', LACE, Los Angeles; 'Chinese Cocktail', San Francisco Art Institute, San Francisco.
On 28 and 29 October 2011 at 20:30 hrs, If I Can't Dance, I Don't Want To Be Part Of Your Revolution is presenting the first restaging of the play Five Sisters (1982) by Guy de Cointet at Frascati WG in Amsterdam. Robert Wilhite collaborated with Guy de Cointet on four of his plays in the 1970s.
Please Visit the website of If I Can't Dance for more information.
Image: Robert Wilhite, Audio piece for solo exhibition at Larry Gagosian's first gallery in Los Angeles, the Broxton Gallery, 1976. The windows were blocked off and the artist read explanations over the phone of the exhibition on view. No caller got the same explanation. Half of the callers received explanations and the other half received a sound work created for the event. A limited number of records documenting the event were produced.