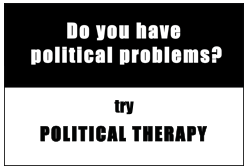 During the months December, February, April and June, Valentina Desideri will give Political Therapy at Kunstverein. Political Therapy deals with problems of a political nature and creates the conditions to develop other languages to talk about and live through politics. There is no specific discipline or theory behind it. Its practice develops as it happens. Neither the therapist nor the patient is responsible for any kind of 'solution' to the problem. Instead, the problem is treated as an occasion for language to develop, for speculation to happen and for politics to be felt. It is a form of therapy for those who neither need, nor want, to be fixed. The role of therapist and patient are always exchangeable. The sessions are never recorded.
You can book an individual session by mailing your name and preferred month(s) to office@kunstverein.nl. We will then contact you to set a specific date and time. The sessions take place at Kunstverein and will be at least one hour (but can be longer, depending on the session itself). The cost for one session is € 35,–, € 25,– for members, with a discount for multiple bookings.
More information about Political Therapy on http://faketherapy.wordpress.com/political-therapy/ or you can mail valedesideri@gmail.com.