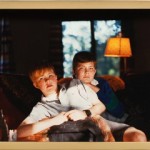 Paying A Visit To Mary Part 2
With Guy de Cointet, Sarah Crowner, Elad Lassry, Willem Oorebeek, Alexandre Singh, Robert Wilhite.
11 December 2010 – 6 February 2011
In collaboration with the Stedelijk Museum, Alexandre Singh performs on 9 December at 7.30 PM at the Stedelijk Museum and during the opening at Kunstverein on 10 December between 6-8 PM
Communication, visible and not, audible or unspoken, is transmitted through signs, through things, things we choose to have and wear, point to or buy, sit alongside or say. These things sociologist Erving Goffman in 1956 calls 'fixed props' or 'sign equipment'.
Sign equipment is, of course, just as much a conduit as it is social baggage. In fact, the American visionary, designer, architect, author, and inventor, Buckminster Fuller (1895–1983), stopped speaking for two years at the age of 32 because of his sign equipment. He said he didn't want to go on simply repeating what he was taught. Instead of communicating by rote, depending on automatic responses, he stripped himself of his inherited 'sign equipment' or 'fixed props' and re-booted his system to say what was needed, when it was needed.
The exhibition Paying A Visit To Mary Part 2 takes as its cerebral anchor the 1977 play Iglu by Guy de Cointet and Robert Wilhite. Iglu contains invented languages, where sounds become words, gestures are sentences; where the actors (sometimes even switching gender) mostly understand one another not because they use words as we do, but because it seems they have agreed to agree. Agreed to agree on meaning; thereby shifting conventions and signs to a different communicative plain.
Paying A Visit To Mary Part 2 stages the question of how individual relations can be perceived and interpreted. How do we communicate? What forms can communication take? Do we understand one another, really? Is your blue mine? And if it is, or if it isn't: how does this affect how we understand one another? The artists in Paying A Visit To Mary Part 2 contend with 'sign equipment' or 'fixed props,' with the shiftiness of communication, social conventions and visual representation. The show, which includes a play, a live storytelling, a lecture, a film and objects is an abstract conversation, amongst the participants and between them and the audience.
After co-presenting Iglu in Amsterdam at Frascati Theatre on 9 November, Paying A Visit To Mary Part 2 opens at Kunstverein 10 December with a performance by Alexandre Singh.