Noa Eshkol
I Look at the Moon and Think about My Daughter-in-Law
4 February – 19 March
A joint solo exhibition at Vleeshal and Kunstverein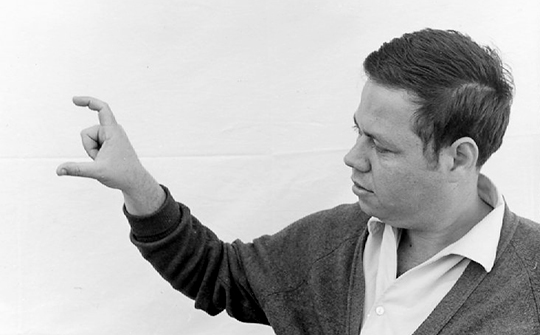 Kunstverein
Hazenstraat 28, 1016 SR
Amsterdam, The Netherlands
Member's preview & walk-through at Kunstverein: February 3, 5 pm
Film screening at Kunstverein: February 4, 4 pm
When looking closely at a hand turning a doorknob, a "rotary movement" is observed, very different from the motion one would witness of jumping jacks, which are considered the result of a "plane movement," and certainly unlike the perceived effort of a waist circling inside a hula-hoop. How do we define one movement from the next, and how do we preserve them in time, in order perhaps to redo them one after the other?
Kunstverein, together with Vleeshal (Middelburg), is excited to present a joint solo exhibition in two parts: 'I Look at the Moon and Think about My Daughter-in-Law' – on the work and thinking of contemporary dancer, choreographer, carpet maker and theorist Noa Eshkol (IL, 1924–2007).
In the 1950s, Noa Eshkol, together with architect Avraham Wachman, developed a notational system for movement, which uses a combination of symbols and numbers to define the motion of any limb around its joint. The Eshkol Wachman Movement Notation (EWMN) system, named after its developers, was born out of a social practice and way of life, as much as it was a visual means of representing (human) motion. The system offers a way of looking at the movements of the body, by organizing them in relatively simple categories making it possible to notate and thus reactivate motion, precisely and mathematically, at a later time.
Please join us on Saturday February 4 for the opening of 'I Look at the Moon and Think about My Daughter-in-Law.' There, the first copy of the EWMN system will be on view, as well as a generous selection from the historic archives (curated by Maya Pasternak with research assistance by Mor Bashan). Kunstverein will also present the first ever screening of an early performance by the Noa Eshkol Chamber Dance Group exercising the system. And a chameleon balancing on a branch.
The films will be screened on the window of Kunstverein's storefront in the heart of the Jordaan, enabling both viewers inside and outside the space to be engulfed by the hypnotizing dances. Drinks will be served.
The exhibition will be open Thursday to Saturday 1–6 pm or by appointment from 4 February to 19 March 2017.

The exhibition at Vleeshal opens with performances by The Noa Eshkol Chamber Dance Group on January 21, at 5 pm and workshops takes place on January 22. For more information on how to attend the workshops please visit www.vleeshal.nl
Kunstverein wishes to thank its (Gold) members, Stadsdeel Zuid, and Amsterdams Fonds voor de Kunst, and Ammodo as well as the Noa Eshkol Foundation for Movement Notation and Anja Casser for their foundational work on the previous exhibition of Noa Eshkol's Wall Carpets and archival material which took place at the Badischer Kunstverein, Germany.