Thursday 23 April, 7:00 pm
Mime Radio (notes for chapter I to XII)
Until 2 May
Thursday 30 April, 7:00–10:00 pm
Mime Radio, the launch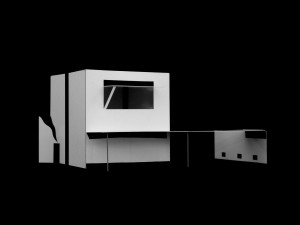 Mime Radio was performed and written orally by French artist Benjamin Seror at a series of events over a two-year period, then transcribed and edited into a novel. The story revolves around a cast of eccentric characters, who meet at the Tiki Coco, a bar in Los Angeles that holds "Challenging Reality Open Mic" nights for amateur inventors and performers. Eventually, the protagonists get caught up in trying to help Marsyas, a character from ancient Greek mythology that lost his body after being defeated in a music contest against the god Apollo, to recover his voice, his very ancient voice. Unbeknownst to them, this recovery unleashes a disaster… Mime Radio is a novel about how language and perception can be one and the same.
Each live chapter of the novel made use of props, models, costumes, music and sound effects. For the first time, Mime radio (notes for chapter I to XII) presents all the models employed as part of these performances. This series of notes draws a mental landscape of the story told in Mime Radio.
The exhibition Mime radio (notes for chapter I to XII) is on view from Thursday 23 April until Saturday 2 May. On 30 April, a special evening and launch is planned that celebrates Mime Radio in its entirety. Expect music and stories.
Mime Radio by Benjamin Seror is Edited by <o> future <o> and published by: Bat; Adéra; CRAC Alsace; Kunstverein, Amsterdam; and Sternberg Press.
ISBN 978-3-95679-151-2
€ 20