Reader,
Please join us for the launch of Reader, aantekeningen exemplaar, Werkplaats Typografie's newest publication, on Saturday March 25 at 7pm. Along with the presentation of this new publication, seven special annotated versions with personal revisions and notes by Wigger Bierma, Malin Gewinner, Marijke Hoogenboom, Koen Kleijn, Andrea di Serego, Riet Wijnen and the editors themselves, will be introduced during the evening. Serving: Chameleons.
As part of Speelplaats, a parallel program of Werkplaats Typografie, participants challenged what was being offered in the school's curriculum by introducing improvements or suggesting alternatives. Reader, aantekeningen exemplaar brings together these contributions made to the Speelplaats program alongside other like-minded initiatives by participants, guests and tutors in the shape of examples as well as reference texts and other materials. The reader borrows its title from an annotated copy of the catalogue Ruimtelijk Werk (1983), found in the library of Werkplaats Typografie, in which Wigger Bierma had penciled down what could have been done more consistently or what was lacking in his original design.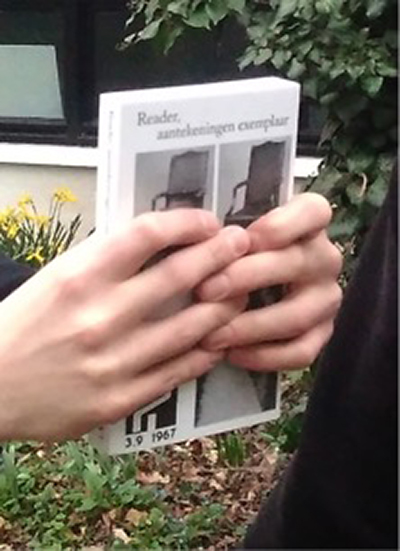 The reader was edited and designed by Nerijus Rimkus and Ronja Andersen with the support of Maxine Kopsa and contributions by Ronja Andersen, Danielle Aubert, Joel Colover, Valentina Desideri, Jason Dodge, Olya Domoradova, Paul Elliman, Rosie Eveleigh, Eloise Harris, Sarah Käsmayr, Maxine Kopsa, Raimundas Malašauskas, Robert Milne, Josse Pyl, Nerijus Rimkus, Charlotte Taillet, Maud Vervenne and Caroline Wolewinski.
The Werkplaats Typografie (WT) is part of the ArtEZ University of the Arts.
Kunstverein is extremely thankful for the support of its (Gold) members and the support of AFK and Ammodo.