Hans de Vries 'Works 1968–1975'
23 January – 19 March 2016
Opening 23 January 6–8 pm
With a new publication published by Kunstverein Publishing
Partner: Rietveld Academie, Amsterdam
Curated by Krist Gruijthuijsen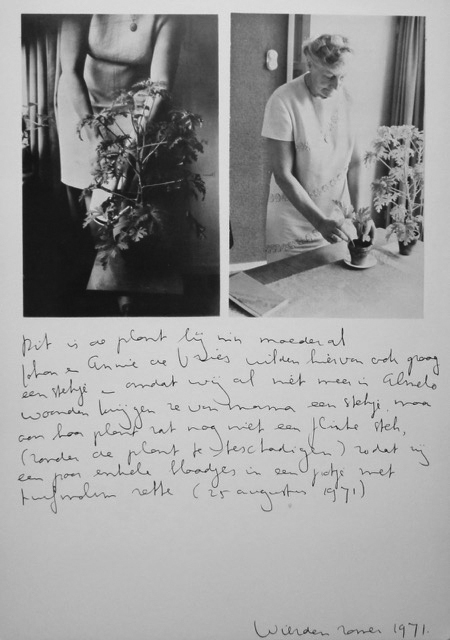 Hans de Vries concentrated on the study and registration of processes and appearances that occur in and are created by nature. De Vries was a close observer, an onlooker, an eyewitness, whose aim was to discern and document the relationship between man and his natural environment. His practice has been referred to as "micro-emotive art", a term coined by the Italian artist Piero Gilardi. Micro-emotive art was art that arose from the interest in minimal sensations and experiences (micro-emotions) –the results of slow processes otherwise not readily perceived.
De Vries's practice was fully integrated in his daily life. He lived in the countryside and registered every detail of his domestic existence. Developments in nature were studied and phenomena one might consider superfluous, were highlighted. This accumulation of facts and observations has been captured in his publications – the artist books of Hans de Vries.
His first book, Het Tuinboek, [The Garden Book] was published in 1971 as part of the Atlas voor een nieuwe metropool [The Atlas For a New Metropole], edited by Jan Donia and published by the Rotterdam Fund For the Arts. Een jaar rond: huiselijke activiteiten en het weer [A Full Year: Domestic Activity and the Weather], Hilversum, Becht, 1971, was published with the help of collectors Agnes en Frits Becht. An example of a self-published book is Kruisingen [Intersections] published in 1973 in Finsterwolde. These publications were only distributed in galleries (like Seriaal) in Amsterdam.
The illustrated De geschiedenis van de citroengeranium [The History of a Citrus Geranium] was published in 1973 by Art Animation in Groningen. This book was the result of a close study of a Citrus Geranium De Vries and his wife, Emmy, initiated in September of 1970. The artist book Stijgbeelden van vruchten [Growth Images of Fruits] is a folder with an original photograph published alongside the exhibition of the same title in the print gallery of the Gemeentemuseum Den Haag in 1975.
Het Dooie beestenboek [The Dead Animal Book] published by De Harmonie Amsterdam a year before Stijgbeelden van vruchten, is the first book that was available in Dutch bookstores. It is a registry of all the dead animals he and his wife came across in 1971 on their way to Winschoten from their home town, Beerta in the north of the Netherlands. This publication's design reflects De Vries's manner of working: showing things as they are, plainly, and with little to no formal concern. Het Dooie beestenboek straightforwardly displays each dead animal accompanied by a handwritten text and a sketch of the situation in which it was found.
Hans de Vries 'Works 1968–1975' is De Vries's first exhibition since he stopped producing art at end of the 1970s. It is a retrospective of all the publications and book-related works including parallel articles and essays about his practice.
Kunstverein wishes to thank its (Gold) members, Mondriaan Fonds, Stadsdeel Zuid, and the Agnes & Frits Becht Collection.