Welcome to the very first gathering of the Jack Lemmon Support Group at BOB's YOUR UNCLE on Thursday May 5th.
Doors open at 7.30 p.m.
Serving: Little Mothers, the classic amongst classics.
Dear supporters,
Jack Lemmon was an actor not a sculptor. You all know that that's not true. His sculptures are widely seen, but just not acknowledged as such.
We would like to invite you to re-make together a sculpture Jack Lemmon made for the film The Apartment by Billy Wilder in which he plays a character named C.C. Baxter that is forced out of his apartment by his superiors, because they want to use it for their adulterous acts. In his eagerness to climb the ladder he capitulates time and again, but despises himself for it. Disgusted and bored he carves out time with Dry Martini's in a bar around the corner.
Please join us to re-circle the circle that Jack made and spiral downwards into the alcoholic void while imagining the space of your own apartments, and what they look like and how they are, without you in them.
Sincerely,
Bob and gerlach en koop
Please note that space is limited.
JLSG-members & KV-members have priority.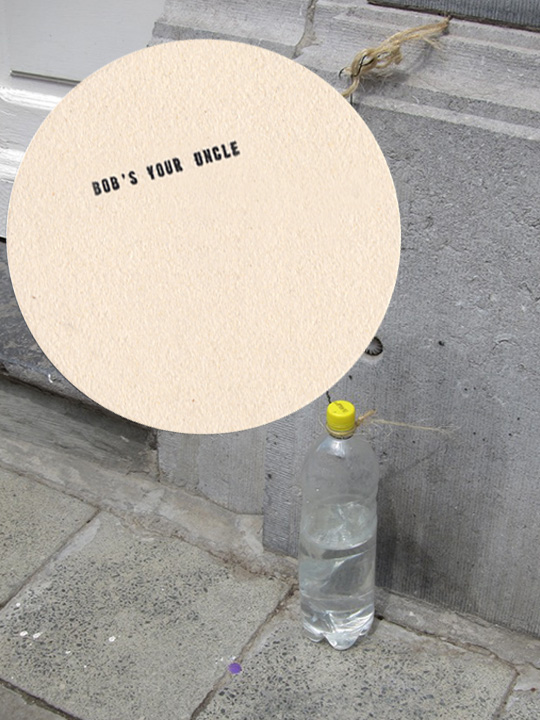 Kunstverein wishes to thank its (Gold) members and Stadsdeel Zuid.
BOB's YOUR UNCLE is designed by Robert Wilhite, open every Thursday or Friday, and brings you a special host and special servings each week. Reservations: bobsyouruncle@kunstverein.nl