Please join us this Thursday for "Quitting the Band" by Nickel van Duijvenboden – a reading and drum solo.
Doors open at 7.30 p.m.
Reading and drumming start at 8 p.m.
Serving the Bitter Apple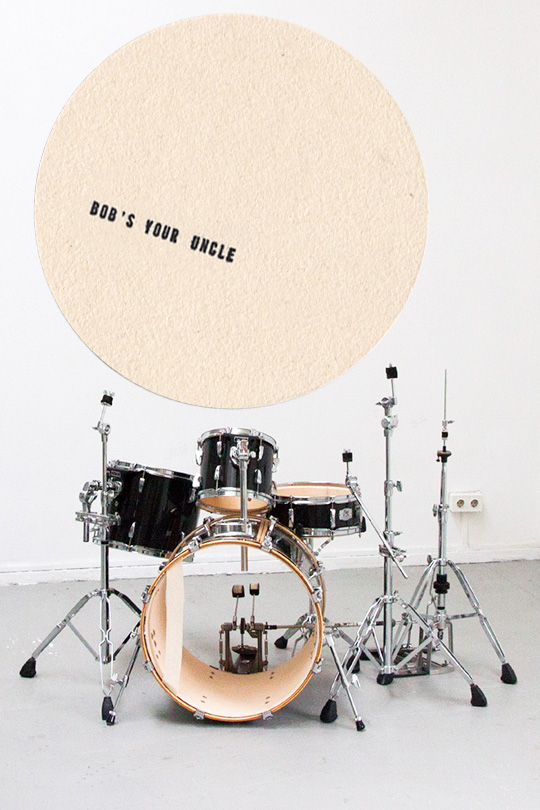 Nickel van Duijvenboden is a writer and artist from Amsterdam. He is currently about to leave the Rijksakademie, where he has been dedicating himself to paper and electronic correspondences and their spin-offs as an artistic mode. He has lately taken up drumming again, as a rhythmic consequence of writing and reading.
In his late teens and early twenties he used to be the drummer of a metalcore band with ties to the vegan-straight edge scene. This youthful experience in a way preceded a commitment to art and writing, and foreshadowed the precariousness of being in a community. It was marked by a gap between the joy of playing music together and the ideological rigour of the 'scene', which in fact amounted to a substitute form of conformism – a conformism within antagonism.
At BOB'S YOUR UNCLE Nickel will try to get out of his usual writerly and readerly role and improvise on the drums as an homage to whomever has had to quit the band.
BOB's YOUR UNCLE is designed by Robert Wilhite, open every Thursday, and brings you a special host and special servings each week. Reservations: bobsyouruncle@kunstverein.nl