Join us this Thursday at BOB's YOUR UNCLE for a screening and Bärenjäger.
Doors open at 7 p.m.
Screening starts at 8 p.m.
A Recess and a Reconstruction
Written and directed by Louise Hervé and Chloé Maillet, 2011, 22 min.
With: Rachel Spicer as Hippolyta, Benjamin Seror as Manfred, and Francis Grew.
Somewhat at a loose end, two museum guides in a basement storeroom are marveling at the great resourcefulness of archeological museography. Elsewhere, on an excavation site, an archeologist standing by trenches and mechanical diggers is describing artefacts. Much further along, a young woman imprisoned in the underground recess of a castle lets her terror fantasies run wild. A Recess and a Reconstruction is a Gothic story where the line between what is past and what lies in the future is in the process of disintegrating.
Production I. I. I. I., with the support of Pôle Image Haute Normandie, Cultures France, FRAC Île-de-France, Mairie de Paris, Raven Row. Thanks to Marcelle Alix, Paris. Image: Maria de los Angeles Parrinello, sound: Arthur Beja, Sam Ryan, editing: Clement Tomé, costumes: Martin Hervé, catering: Michèle Monory.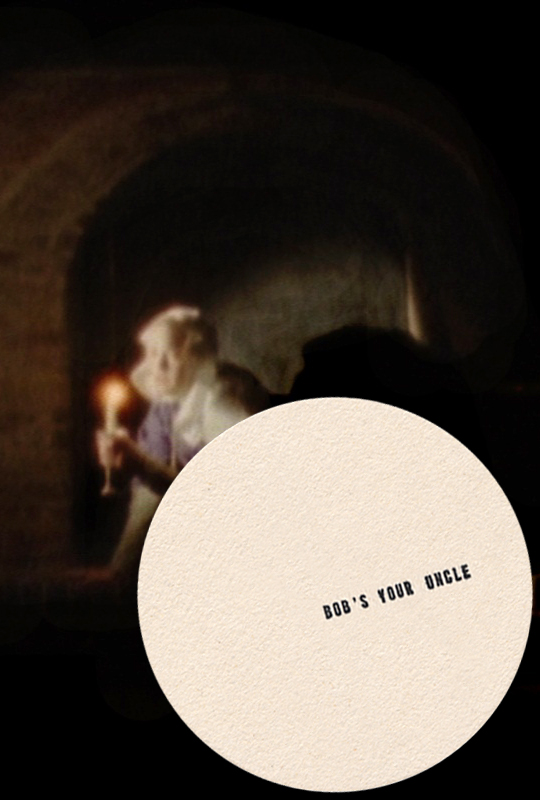 Serving: Bärenjäger (bear hunter). In medieval times, bear hunters would enticing the bears with meschkinnes, a mead-like moonshine made by bee keepers and farmers which was irresistible to bears and humans alike. In the 15th century, the Teucke and Konig Bear Trap Company created the first professionally produced meschkiness ("Bärenjäger"). And it's still made with natural ingredients using the same methods.
The Performance Programme at Ellen de Bruijne Projects and BOB's YOUR UNCLE is curated by Dorothé Orczyk.
10 January – 28 February 2015
In collaboration with Kunstverein/ BOB's YOUR UNCLE* Amsterdam, Ellen de Bruijne Projects presents different performances every week by the following artists:
*Kerstin Cmelka
Jeremiah Day
*Uta Eisenreich & Eva Meyer-Keller
*Louise Hervé and Chloé Maillet
I'm With Her Records
Sarah van Lamsweerde
Eva Meyer-Keller
Erkka Nissinen
Janneke van Raaphorst
Geo Wyeth
Please visit Ellen de Bruijne's website, Facebook as well as Kunstverein's website to stay updated on the programme.