On September 10th at 6PM, Kunstverein is proud to host the launch of two publications: Guerrilla Art Action Group, 1969 – 1976 (reprint) and Discipline.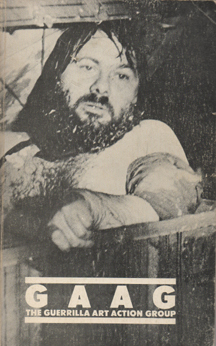 In collaboration with Printed Matter and the Research Centre for Artists' Publications at Weserburg – Museum of Modern Art, Kunstverein has republished the catalogue of the highly influential activist collective, Guerilla Art Action Group (GAAG). A precursor to radical artist groups such as Gran Fury and the Guerrilla Girls, GAAG's activities began at a time when artists were increasingly challenging the conduct of museums and other institutions. Originally published in 1978, the publication documents the art actions by the Guerrilla Art Action Group between 1969 and 1976.
Kunstverein will simultaneously host the European launch of Discipline, a new periodical published from Melbourne. Collating many of the strongest critical voices and art practices in its region, the magazine suggests that what is needed in relation the current question of art is some discipline; the discipline to pause, to look, to read and to think.
On the occasion of Discipline's launch, Kunstverein will additionally host a display of independent Australian art periodicals including such seminal titles as Lip, Art Network, Art & Text, On the Beach and Pataphysics. Key editorial figures for each publication will make a selection of editions for the display.
Kunstverein would like to thank Suzanne Davies (Lip, Art-Network), Mark Titmarsh (On the Beach), Rob McKenzie (Art & Text) and Yanni Florence (Pataphysics).