Political Therapy*

3–7 July



Special opening hours:
2 – 5 pm
–
July 7th
,
4pm
:
A conversation run by Valentina Desideri.
After two weeks of political problems in Kunstverein, the therapy gave its fruits.
Geraldine Geffriaud made a Dot Dry Date.
Jurgis Paškevičius has a Second Missing Thought.
Roi Alter has a question.
You are coming.
*Political Therapy deals with problems of a political nature and creates the conditions to develop other languages to talk about and live through politics. There is no specific discipline or theory behind it. Its practice develops as it happens. Neither the therapist nor the patient is responsible for any kind of "solution" to the problem. Instead, the problem is treated as an occasion for language to develop, for speculation to happen and for politics to be felt. It is a form of therapy for those who neither need, nor want, to be fixed. The role of therapist and patient are always exchangeable. The sessions are never recorded in any way and take approximately one hour.
Valentina Desideri

was best defined by a friend who called her a 20 year old on tour. Although this was meant as a reproach, she found this definition more suiting than performance artist or anything on that tone. Lately she has also been called a psychic,which, if added to the previous description, makes of her a psychic 20 year old on tour. She trained in contemporary dance at the Laban Centre in London, she is doing a MA in Fine Arts at the Sandberg Institute in Amsterdam, she does Fake and Political Therapy, she makes performances, she writes biographies by reading people's palms. She writes other things too but mostly she's around.


–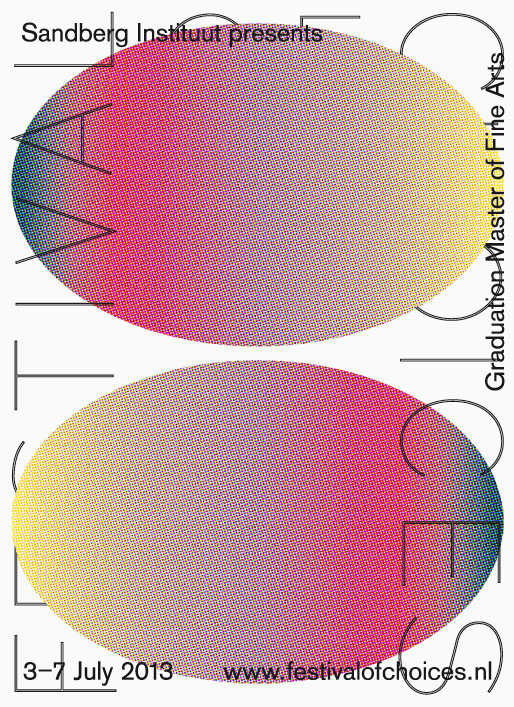 Political Therapy

is part of A Festival of Choices, Master of Fine Arts Graduation 2013, Sandberg Instituut, 3-7 July 2013, various locations throughout Amsterdam.
A Festival of Choices emphasizes upon the relationship and choices made between the graduating student and the diverse range of institutions and organizations offered within the cultural landscape of Amsterdam.


For more information and the full program, please check www.festivalofchoices.nl