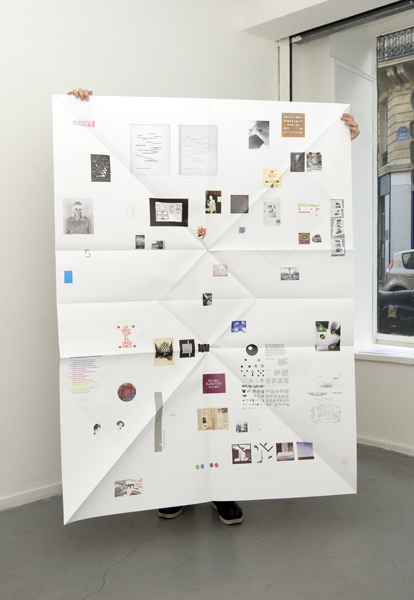 Dexter Sinister, A Model of The Serving Library
29 May – 24 July
Private view: 28 May, 7 – 9 PM
During Spring and Summer Kunstverein will collaborate with Dexter Sinister.
Dexter Sinister is the compound name of David Reinfurt and Stuart Bailey who, in 2006 established a workshop and bookstore with the same name in New York's Lower East Side.
Most of Dexter Sinister's projects have explored aspects of contemporary publishing in many different contexts. As well as designing, editing, producing, and distributing both printed and digital media, Dexter Sinister have also worked with ambiguous roles and formats, usually in the live contexts of galleries and museums. Their bi-annual house journal Dot Dot Dot (begun in Amsterdam in 2000) often functions as a framework within such projects.
Currently Dexter Sinister intends to dissolve all their activities (including the journal, workshop and bookstore) into one single project called The Serving Library. The Serving Library is as much social furniture as it is a specific model. It intends to operate on the principle of developing something in public and will eventually comprise: a physical library, a collection of artefacts, a teaching facility and a journal entitled "Bulletin of The Serving Library".
For Kunstverein, a speculative model version of the Library is developed providing the backdrop for a number of seminars and other events, which will discuss issues drawn from the contents of the library. The artefacts and books will serve as triggers for conversation and teaching, and the space will serve as a meeting point and hangout. The whole might be considered a kind of temporary school — a school primarily concerned with what a contemporary art school might become.
——————————————
Events
Within the framework of A Model of The Serving Library, Kunstverein will organize various events that reflect upon aspects addressed within the library's content.
31 May – 2 June
"Applied Art" starting each day at 2 pm at Kunstverein
Workshops hosted by Dexter Sinister with Gerrit Rietveld Academy (31 May), Piet Zwart Institute (1 June) and Werkplaats Typografie (2 June). The workshops are open to the public.
Please make reservations before 27 May to office@kunstverein.nl
27 June 14.00 – 17.00
Brunch Lunch Launch of Kunstverein's first issue of its own house magazine Ginger&Piss with a performance by Matthew Lutz-Kinoy.
16 July 19.00
Lezing #1 M.V.
The first in a series of lectures by Koen Brams on remarkable yet overlooked figures of the Belgium art scene who have appeared and disappeared at historically significant moments in time.