"grey-blue grain", an exhibition by Adam Pendleton
12 Dec. 2009 – 31 Jan. 2010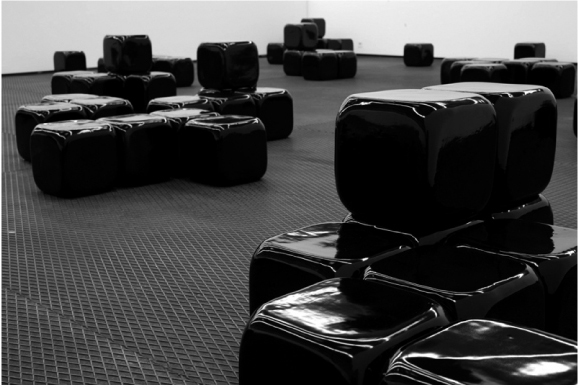 grey-blue grain is the second in a three-part program by Adam Pendleton entitled EL T D K Amsterdam, comprising, along with this exhibition, two performances.
grey-blue grain is a selection of projects from 2007-09 that deal directly with the abstraction and instrumentalization of language and image through sculpture and wall-based work, including including a selection from his ongoing System of Display, mirror and glass works that atomize historical trajectories and textual realities through framing, reflection and fragmentation; sculptural work derived from the code-based work of 'Clairvoyant Poet' Hannah Weiner; poster-format rereading of texts based on the work of Liam Gillick and Malcolm X; and fresh configurations of the artist's abstract and phenomenological alphabet, Untitled (small black cubes).
Adam Pendleton's conceptual practice constructs formal templates in which he slots information. As a painter, writer and performer, he uses extreme freedom of reference and quotation, as well as a rejection of conventional hierarchies among sources, to create a re-historicized present, one that upsets and unbalances comfortably subjective interpretations of history and culture.
Over the past few years American artist Adam Pendleton has written various performances in which he exploits the easy-psychology of autobiographical readings by using devices that render language concrete and contingent. Often he combines specialized discourses and common knowledge in a redistribution of cultural information. Previous performances range from the evening length 30-person gospel choir production The Revival to a series of manifestos such as the Black Dada Manifesto.
EL T D K Amsterdam is a collaboration between Kunstverein, Amsterdam and de Appel.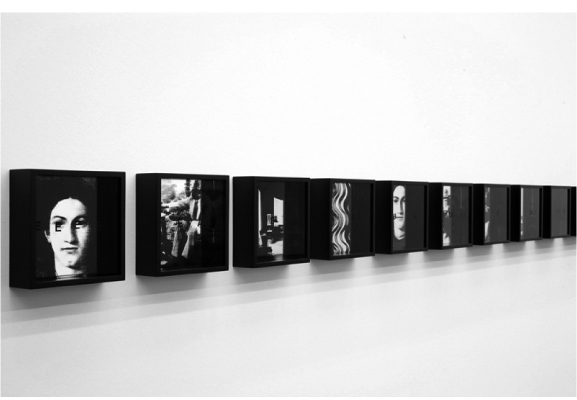 Note:
Part three, BAND, will be performed the 13th and 14th of December at 8.30 PM
Location: De Brakke Grond (Rode Zaal), Nes 45, Amsterdam

For reservations, please contact: +31 (0)20 626 68 66 or hzomer@deappel.nl
BAND is a form and content refashioning of Jean-Luc Godard's Sympathy for the Devil. Made in the aftermath of May '68, the original film helped mark Godard's break from his Nouvelle Vague period into a more committed engagement with the politics and class struggles of the time. It modelled the director's emerging political faith that radical formal complexity could undermine the bourgeois logic implicit to narrative filmmaking. Often read as a tribute to the Rolling Stones whose rehearsals form an ongoing motif in the film, the Stones were in fact emblematic of the mainstream counterculture from which Godard was attempting to remove himself. BAND will unfold in stages, beginning at the Toronto International Film Festival on September 17th with a rehearsal and live concert by the indie-rock/post-punk band Deerhoof. The Amsterdam performance/reading will present the first edit of footage from Toronto with work-in-progress sequences from texts based on the work of authors explicitly related to Godard's film, such as the Black Panther' Eldridge Cleaver; or tangentially related, such as Gertrude Stein. The final stage of BAND will occur at The Kitchen, New York in Fall 2010.

Co-producers: Wayne Baerwaldt, Alberta College of Art + Design, Calgary; Noah Cowan, Toronto International Film Festival, Future Projections; Ann Demeester, De Appel, Amsterdam with additional support from Rashida Bumbray, The Kitchen, New York.