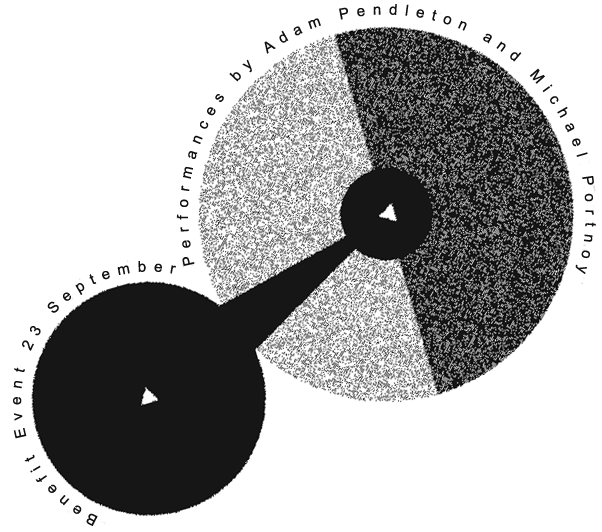 The evening starts 19.30 at café Aan de Amstel, Weesperzijde 42a

Adam Pendleton
three scenes
As part one of EL T D K Amsterdam in collaboration with de Appel
Performed at 20.00 and 21.00
Location: Ruyschstraat 4 III, Amsterdam
Over the past few years American artist Adam Pendleton has written various performances in which he exploits the easy-psychology of autobiographical readings by using devices that render language concrete and contingent. Commonly, he combines specialized discourses and common knowledge in a redistribution of cultural information.
Previous performances range from the evening length 30-person gospel choir production The Revival to a series of manifestos such as the Black Dada Manifesto. For his performance at Kunstverein entitled three scenes, Pendleton will evoke the notion of a retrospective by pulling, assembling and re-appropriating material from all of his performances to date.
Michael Portnoy
Human Intwist Group
Performed at 21.00, 22.00 and 23.00
Location: Intercontinental Amstel Hotel, Professor Tulpplein 1, Amsterdam
Michael Portnoy is a 'director of behaviour' and performance artist based in New York. His practice circles the laws and habits of play and communication — language itself forming a significant aspect in the works.
Portnoy's installations, music, objects, relics and performances reside in a world where cryptic, specific communication, symbols and gesture seem to live alongside standard social conventions. The rules governing his works are thus experienced as odd and distant yet somehow recognizable. This pushing and pulling of a rather intimate familiarity makes 'participation' possible while an overall structure remains enticingly opaque.
---